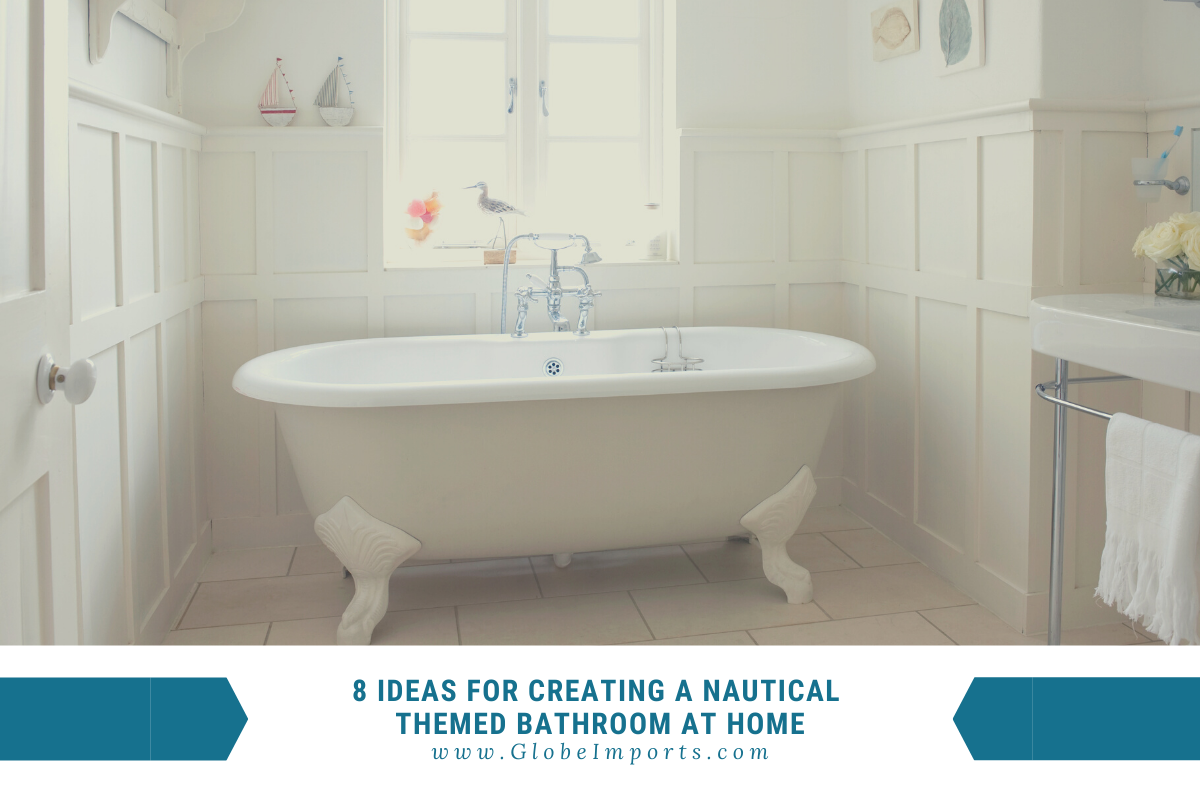 If you are looking for nautical items to sell in your store, it is very important that you know what the most popular nautical products are. A lot of people like to make improvements to their bathrooms. Whether these are simple upgrades or full remodels, homeowners will spend a considerable amount of money on nautical products.
Not all nautical products are created equal. A look at the most-ordered nautical items online shows that nautical bathroom accessories, including candle holders, decor with anchors, soap dishes, and hooks for shower caddies, are the best sellers.
Here are some ideas:
1. Blue Accents
What's nautical without the colors of the sea, right? Offer products that come in blue hues as they are the ones that better represent marine life through your bathroom. You can offer items in varying shades of blue, from turquoise to navy.
2. Clocks
For some, it might seem weird to have a clock in the bathroom, but if your client's theme is nautical, you need to have a clock in there. Time is a vital element in this kind of decor—think wooden clocks that will set contrast to other bathroom features.
3. Cabinet Knobs
The little details can create a huge impact. Cabinet knobs in marine creatures, such as dolphins, are fun and will add whimsy to any room. Many nautical things can be turned into cabinet knobs that customers who want to go nautical will definitely appreciate!
4. Candle Holders
There's something about candles that just bring coziness to any room. Choose candles with sea scents in cool colors and have them placed in nautical candle holders that are not difficult to find. The popular choices are candle holders that feature a rustic or distressed look.
5. Wall Decorations
Now, don't leave those walls bare. In fact, this is the best place to add some more nautical-inspired items to get the vibe that your customers want. Offer paintings and wall decors that will represent various styles.
6. Mirrors
For a nautical-inspired bathroom, circular mirrors are a popular choice because they resemble the feeling of being on a ship. On the other hand, you can offer circular mirrors that come in various styles. You can even offer various shapes as long as they feature nautical elements.
7. Lighting Fixtures
Lighting is vital to any room, so make sure your bathroom gets good lighting. Consider lamp fixtures they can mount on their walls that will make their bathroom look more interesting. Offer various designs to provide your customers with more options to choose from.
8. Shells
Shells are the easiest way to make a bathroom look and feel like it came straight out of the beach. Fortunately, you don't need to go to the beach to get some shells as there are many shell decor items to sell. Consider shell decor today that will make it easier for your customers to achieve a nautical-themed bathroom.
Conclusion
One of the reasons that a nautical theme feels so relevant to today's homeowners is that it can blend into almost any type of house. The sweeping lines and cool finishes of the coastal design fit well with almost any type of bathroom. These are the nautical items you can offer that will satisfy the needs of this particular customer type.
Offer the right nautical products to your customers that will truly sell today! Get wholesale nautical decor here at Globe Imports. We are a wholesaler and importer of home decor. Visit our warehouse today!