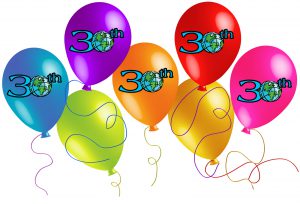 This year we celebrate 30 years in business.  It's hard to believe it's been that long.  As they say, time flies when you're having fun.  We know it's not our products or our service that has kept us going all these years…it's our customers.  It's you, our loyal customer base, that made and kept us a growing business for three incredible decades.
When Globe Imports incorporated in August of 1988 it carried mostly decorative brass items, a variety of vases and planters, a menagerie of animal figurines from six-foot-tall giraffes to six-inch brass ducks holding umbrellas.  Shiny brass was all the rage in home décor back in the 80's and 90's.  As fashion changed, the merchandise adapted to the trends.  But, Globe's toll-free telephone number still reflects its roots:  1-800-92-BRASS.
Later, antique and verdigris patina metals started to become more in vogue.  Globe Imports expanded their lines with products made of lots of different materials: leather animals; wooden ship wheels; glass nautical fishing floats; brass and wood navigational instruments; colorful resin and polystone figurines of all sizes and designs; canvas wall prints and room dividers; and metal wall sculptures.  Nautical and coastal have steadily ranked among the most favored categories of proven sellers.  Globe is always expanding their inventory with new and exciting merchandise.
The Globe Imports, Inc., started out as a retailer and had several locations in Florida and Georgia.  Within the first decade, they became a full-time wholesaler supplying stores, shops, and online marketers.  A great deal was learned by Globe in the beginning dealing directly with the end consumer and that helped shape their knowledge and expertise in buying.  They still deal with some of the same suppliers from India and China that they started with.  Unlike many importers/wholesalers that also retail, Globe has continued to maintain a "wholesale only" rule for ordering online or shopping in their showroom.  Globe believes they are in partnership with their customers and should not compete – it's strictly business-to-business marketing.
It's a big world out there.  Other wholesale companies may sell a particular line similar to some of Globe Imports, Inc., products.  Maybe there's a small importer that carries fantasy themed windchimes and incense burners or another wholesaler that supplies artistic metal wall décor with a coastal vibe, but there is not one company that offers the huge variety that Globe stocks.  While it's great to work with several suppliers to have everything your customers want, having a one-stop-wholesale-shop under one roof saves you time saves you big on shipping costs.  
 Online and in their fully stocked warehouse Globe Imports now carries everything from steampunk style to wine bottle holders; antique reproduction museum pieces to new age products; whimsical garden accents to classical home décor; inexpensive impulse giftware to functional furniture accessories; frogs to turtles, pirates to mermaids, the list goes on and on.
The most important things we have endeavored to do over the years have been to bring you quality merchandise, sell at the lowest possible prices, give you superior service –  all in an effort to make you successful.  That is our success.  It's not just about selling you stuff…it's about selling you stuff that sells.  It's truly been a pleasure and an honor to serve you, our customers, and we look forward to the next 30 years.