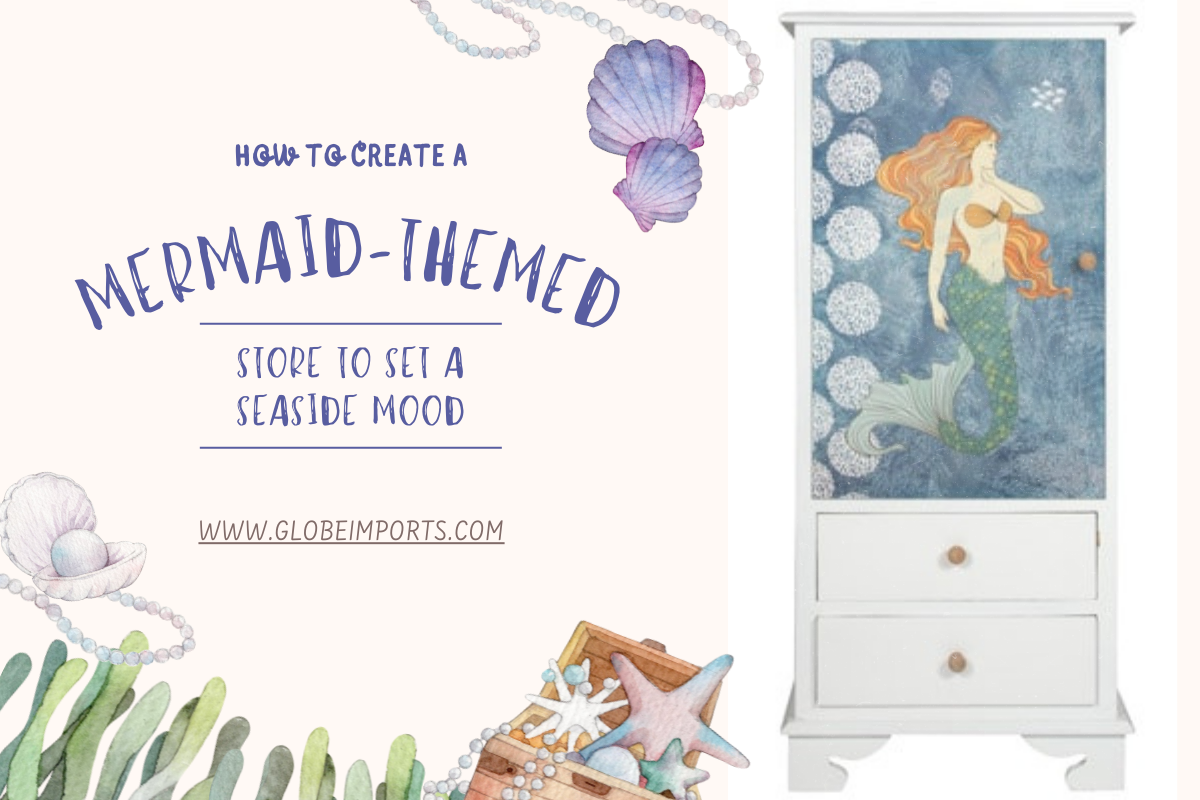 Many people love the ambiance of the calming sea. As a result, they tend to bring the vibe to their home. After all, good vibes really do happen on the tides, so no wonder they try to achieve a sea vibes decoration on their spaces.
As a home decor shop owner, you need to help your customers. Once they enter your store, they must have that urge to incorporate the look of your interiors into their home. Give them some seaside inspiration! One way you can do that is to give a space in your store a mermaid-themed design.
To help you out, here are some tips on how you can achieve a mermaid-themed store:
Tip #1: Set a Palette and Stick to It
Decorating your store with a mermaid theme doesn't mean you will only focus on scaled tails and figurines. You can achieve that theme by incorporating different hues found under the sea. It's best to deck your space with a palette of pastels and iridescent accents. You can also add a little shimmer reminiscent of how that magical sea creature would sparkle in movies.
Tip #2: Flaunt Your Mermaid Art Products to a Gallery Wall
Try to dedicate a wall for your mermaid art products so that customers can easily choose one. However, make sure that you're not just hanging them altogether. Arrange them in a nice position, just like how you would arrange them in your own home. That small detail will entice customers to buy the art and incorporate the design into their own space.
Tip #3: Don't Forget About Coral and Shells
Perhaps you have a gigantic coral in your store. Make that as a centerpiece. You just need to add minor details if you put it in the center because that can be enough to achieve a mermaid-themed store. But, if you don't have one, you can just add a mural with shapes inspired by sea kelps.
You can also consider incorporating seashell throw pillows as a decor accent on your bedroom area products. Pair it with decorative velvet cushions with simple white bedding, a rattan bed frame, and an ultra-soothing, pink-on-pink wall paint treatment.
Tip #4: Put a Whimsical Wallpaper in the Bathroom Area
Since mermaids live underwater, why not offer your customers an underwater bathroom design? Achieve that by putting some whimsical wallpaper on one of your bathroom or powder room models. Most homeowners are afraid to experiment with their bathroom design. So, give them an example so that they can realize that it's actually worth trying.
Conclusion
These are just some of the easy ways you can achieve a mermaid-themed store. You just need to channel that beach babe and dude in you to set an oceanside mood. Make use of the items in your store, and arrange them creatively so that your customers will be enticed to buy your products. Remember, you must be able to give them what they are looking for. So when decorating your store, those products on display must be available for sale.
Offer the right products to your customers. Get nautical decor at wholesale prices at Globe Imports! We have a wide variety of fast-selling, competitively priced, top-quality merchandise for resale purposes, such as tropical items, furniture, home decor, garden accents, and more. Visit our warehouse today!