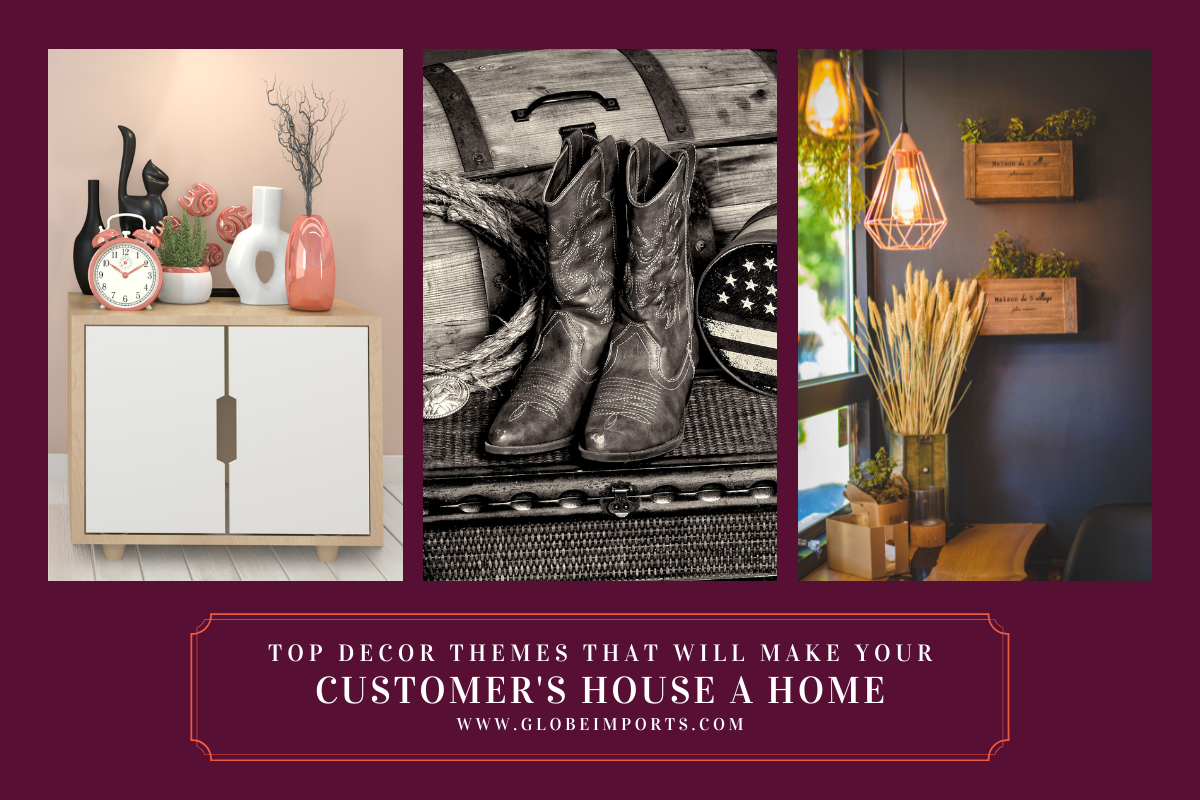 When it comes to decorating the interiors of one's home, there is no right or wrong. What became more essential for homeowners was their ability to express personal style through these decorations. This current trend is probably one of the reasons why diverse themes for home decor came to be.
If you are a home decor retailer, keeping up with the latest trends is always crucial in offering the best collection to your customers. Recently, home decoration has become less about expensive furniture and more about the details you add to every space and corner.
These pieces, when brought together, form one beautiful, distinct style that can bring comfort to homeowners and their guests. What popular home and room themes can you make a collection of for your customers' next decor shopping? Read on to learn more.
Rustic
Farmhouse-inspired items are perfect for your customers who want their spaces homely and cozy. When buying wholesale for your shop, remember to get an equal mixture of fancy and minimalistic pieces and accents since more homeowners nowadays have become more specific about their preferences. Rustic decorations can be either traditional or modern, after all.
Nautical
Who doesn't love the beach, right? Many homeowners want a coastal theme for their house, so get your shop unique decorations that will surely catch the eyes of your customers. Some of these lovely nautical pieces include turtles, pirates, mermaids, and many more.
Camping
Camping home decorations are extremely popular among families who just love outdoor adventures. With details of camping and RV living present in their home, it becomes an instant storyteller of their hobby as a family. Make sure to grab some cute wood signs and tassel pennants on your next decor haul!
Western
If your store is located in a desert state, it probably makes sense to curate a collection of pieces and accessories that will truly capture the interest of both cowboys and cowboys at heart. Western decorations are always on-trend, so stock up on those horseshoe welcome signs, cowboy boots, bull horns, and more.
Industrial
For your customers who prefer minimalistic and sleek interior looks, prepare a selection of industrial-themed home decors. Homeowners get to experiment with as many styles with this theme, so feel free to fill your inventory with unique-shaped items and eccentric accessories.
Inspirational
A little motivation goes a long way, indeed! Inspirational decorations have recently found their place in homes, offices, and other properties that could use a little positivity—wall signs with quotes and mugs with encouraging messages never fail to brighten up someone's day. In fact, your customers will love to add a piece or two to their cart regardless of the theme they're going for since inspirational home decors fit in just about any style.
Conclusion
Your customers are constantly looking for ways to enhance their homes, and these include scoring stylish decorations that can bring more life to their every living space. We hope that the guide above gives you an idea of what to buy next for your decor shop! Piece of advice, try to ask your loyal customers too about what they think you should feature next. You never know, they might have a home decor theme in mind that you've never heard of.
If you're on the lookout for the best wholesale home decor, get in touch with Globe Imports. We supply our products to clients worldwide and offer warehouse visits to anyone who can come to Florida by appointment. Shop through our website today.