Baby Turtle Nursery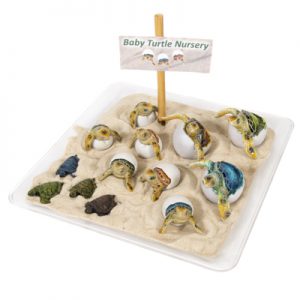 Is there anything more adorable than a baby sea turtle?
Boost your sales by creating a cute newborn nursery.
One of our customers gave us this great idea and it has helped greatly increase turtle sales.
Just add a little sand.  Stock up on turtle hatchlings.  Get creative and add the turtles eggs (WW-354, WW-355, WW-345) to a fish bowl or other cute dish filled with sand for fast sales.  Mix in some other small turtles, (WW-310X-4) and even an assortment of practical sea turtle magnets (WW-310M), too.

It is estimated that only 1 in 1,000 hatchlings will survive to adulthood.  In their race to the ocean, they use the natural light of the horizon over the ocean and the white crests of the waves to guide them to the water.  Great efforts are made to keep the lights from beach development from disorienting them and drawing them away from the sea.  However, once out of their nest, the hatchlings face many predators including crabs, birds, raccoons, dogs, and fish.

Your customers will love to pick up their choices, put them in their hand, and bring them to the register.  Shoppers find it hard to select just one and will usually buy multiples. Tourists looking for souvenirs or locals seeking gifts are bound to be enchanted by these adorable sea creatures emerging from the beach you created.